Dental Implant Related Treatment
Dental Implants - The What, How, and Why
Dental implants are titanium-alloy screws placed into the jawbone and used as the foundation to support artificial teeth. Titanium is one of the most biocompatible materials and allows for a process known as osseointergration where the bone fuses onto the implant surface and locks it in place. This is what gives dental implants their great stability and allows them to function as replacements for missing teeth. This process occurs during healing and requires several weeks to a few months to occur depending on various factors. Implants can be used to replace one, several, or all teeth in the mouth by supporting single crowns, bridges or complete dentures.
Periodontists are experts in the surgical aspect of dental implant treatment and are also uniquely positioned to help you maintain your implants and the adjacent gums in a healthy state. We work closely with your dentist in the diagnosis and planning for dental implant treatment. Periodontists handle surgical aspects of implant therapy including tooth extraction, site preparation including bone or soft tissue grafting, and placement of the dental implant itself. Your dentist will place the final crown, bridge, or denture on the implant after it has fully healed and integrated with the jawbone. Dental implants provide the closest functionality and feel to natural teeth of any tooth replacement available.
Long-term follow-up care including good oral hygiene are critically important in maintaining your implants for a lifetime. We focus our efforts on proper positioning and long term supportive care, which in turn will facilitate later maintenance and hygiene.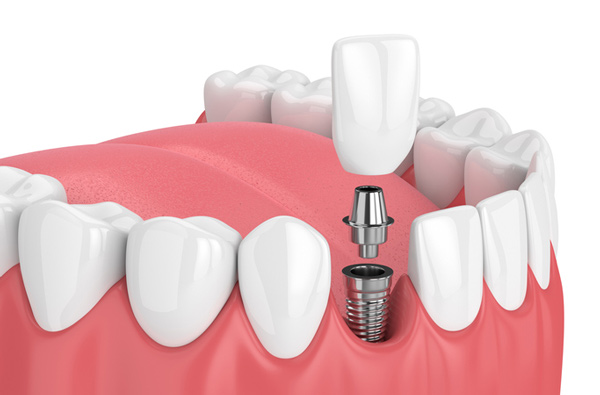 Types of Dental Implants
Endosteal: Dental implants that are placed in the jawbone itself. Generally made of titanium and shaped like small screws, they are the most commonly used type of implant for most patients in need of dental implants.